This newsletter is mainly to acknowledge our members who received awards at the Club
and/or Squash Canterbury prizegiving and to promote our current fundraisers. Please see the
full list of award winners later in the newsletter.
Housekeeping…..
As we come into the summer months can I please ask you all, if you are the last to leave the
club, to remember to check ALL lights are off when you leave. I have recently been at the
club early in the morning to find the bar and/or changing room lights left on from the prior
evening, as well as courts booked with no-one playing or even at the club. Additionally, if you
are unable to use your court booking releasing it allows other members to be able to book the
court for their use.
Also please tidy up after yourself – bar glasses into the tray for cleaning (not left around the
bar area), and full trays to be put through the glasswasher, dishes cleaned, and please put
eftpos receipts onto the spike. In the bar please ensure the chiller doors are closed as they
sometimes do not close completely and if left ajar this makes the chiller ineffective.
CFSC – New Logo Selection Results
Thanks to all who put in a vote for the new logo – results were for option 2 the 3D outline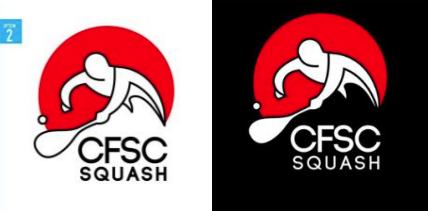 Regards
Kirsty – President
027 249 7077
Club night continues each week on Wednesday's from 7pm. Club night is a great way to
welcome new and prospective members to pop down for a hit
Administrator Contact: Contact Grace Allen for all member (new and current) and other admin
related queries. Email footballsquash@gmail.com or phone 027 577 8274.
Proposal for a name change for the club – Why should CFSC vote to change its name?
As you'll be aware 2020 has been a struggle for all organisations and this is no different for
the squash club, with membership numbers dropping by 20-25% on the same time last year.
This is on top of a year on year gradual decline over the past several years due to many
external factors effecting squash and sports participation in general. We are aware as a
committee that these trends are not sustainable and that significant effort into reversing this
trend is needed.
You may or may not be aware, that the committee is working on a marketing plan to attract
new membership that will be gradually executed in the new year. In essence this focuses on
increasing awareness of the club, promotion of its benefits and a focus on the target
membership groups and getting new members through the door and embedded in the sport
of squash. To do this we will be rolling out
• Street signage
• Household flyers
• Targeted Facebook marketing campaigns
• New introductory packages to attract and support new members
• Other profile creating activities
Additionally you would have noticed that we have refreshed the clubs logo. This was
essential to make the clubs pending marketing campaign current & relevant to the target
new membership. In the same vein various club members have raised the issue of the clubs
name and the prospect of making it more relevant as we go through this change process. In
essence the rational behind the question of the clubs name is as follows
• The term "Football" has no future relevance to the club
• The term "Christchurch" is confusing with the new Christchurch Squash Club in
cashmere
• The combined term "Christchurch Football" is too long
In essence our current name has no point of difference for the club. From a marketing
perspective it will inhibit our future ability to get our message out to potential new members
as it is confusing and not unique.
Our proposal is to ask the clubs membership at the 2021 AGM if they will support a name
change for the club. If this was to pass, then a vote will be taken on a preferred name. We
are therefore asking members to submit ideas to the committee from which a shortlist will be
created. Submissions should focus on a unique name (within the squash community that will
be relevant in future years.
It should be noted that a name change is about a focus on the future of the club and is not
intended to discard or offend past members and the great work they have achieved over the
years for both the squash club and the rugby club next door. There is a need however for the
squash club to drive its own path forward and this is just small piece of the puzzle. To me
and many others Spark will always be called Telecom and I expect this case to be no
different.
Aaron Worner
M: +64 (0) 27 426 0069
E: aaron.worner@regeneratenz.co.nz